gifty gifts.
Posted on: December 12, 2013

Ah, the holiday season. So many opportunities to express your love for those around you with shameless consumerism.

In that spirit, here are some of the gifts I would recommend for that crazy person in your life who just can't get enough malt, water, hops, and yeast:
I bought a package of these little silicone caps as a stocking stuffer for the Bearded Brewer several years ago more as a joke than as a serious gift. Then, one night, we had some friends come over and we cracked a fairly expensive bomber of Flemish Sour and failed to finish it. Not wanting it to go to waste, we decided we would roll the dice and try a Beer Saver. Being who we are, we promptly forgot about the bottle and it was shuffled into the back of the fridge. Over a month later, the Bearded Brewer was digging through the fridge and found the sad little bottle. He peeled back the silicone tap and, instead of doing the logical thing and pouring the old beer down the sink, he poured it into a glass. And it was as fresh as it had been the night we opened it. I was at the Billpaying Job, and he called me to tell me about the miracle/rub it in my face that he was able to imbibe while I was stuck getting yelled at by irate customers. As previously established, the Bearded Brewer is kind of a jerk. But at least the beer wasn't wasted. These little guys run you $7 for 6, so it's a great stocking stuffer for anyone who buys a lot of bombers and can't always finish them in one sitting.
The Sam Adams Utopias cigar is a great gift for that special beer geek who not only adores rare, pricey brews, but also a good cigar. I'm not really one to throw around labels (note: that is an outright lie), but I might go so far as to say this is a really nice gift for your beer-loving yuppie friend. They are a solid median price at $13 per cigar (which isn't too bad for a nice cigar), but if you want to pair it with the beer of the same name, you're looking at being out another $200 (give or take).
The Stone Brewing Hot Sauce Trinity was one of several gifts we purchased when visiting Stone Brewing back in 2010. We gave it to our friend Scotty and it lasted two weeks. These are some of the most robust, well-rounded, delectable hot sauces available. They work so well on so many dishes and are well worth the $20 you'll put out for them. Great for your favorite culinary beer geek or just someone who can't resist spicing up every meal.
We have a lot of growlers. As in well over 100. They have taken over my kitchen and made my house look like a frat house. A classy frat house, but a frat house none-the-less. Of all of the growlers we have, the Great Divide Brauler Growler that I gave the Bearded Brewer for his birthday is probably our favorite. It keeps our beers nice and frothy for longer than a regular, glass growler; it comes with its own growler condom to keep the brew chilly; and the cap comes completely apart to aid in thorough sanitizing. If they made mini-Braulers, I would totally keep one in my purse. At $35, it's ridiculously affordable, and you can gift it filled with an awesome brew (which makes it just about perfect). Give it to anyone who likes to visit breweries and bring beer home with them.
And here's another growler. But this one is special. Not just because it's double-walled. Not just because it has a bail top. But because you can get it with this:
That, friends, is a keg cap. Both of these wonderful items are made by Drink Tanks and add a new level to "to-go" beer enjoyment. The growler on it's own will keep your beer chilly and fresh (because of that awesome bail top), but it's still not like having the beer on draft. The keg cap solves that by injecting CO2 into the growler, keeping your beer as fresh as when it came out of the faucet. This is not cheap by any means running $69 for the growler (unbranded) and $45 for the keg cap. So this may be more of a 21st birthday gift or a wedding gift, but it's still a pretty awesome setup for around $100.
But how is said beer geek supposed to get her new Brauler and Drink Tank home safely? Generally speaking, strapping a growler in using a seatbelt isn't very effective, and putting one in a baby seat is frowned upon, thus the Growler on Board caddy. It easily fits three growlers and keeps them from tipping (we've even managed to keep our growlers vertical while off-roading with this badboy). It does double-duty as a drying rack for growlers with handy neck-sized holes in the bottom of each growler seat. For people who treat their growlers like children.
If you're looking for practical (if somewhat silly), it's hard to beat the Beer for Boobs iPhone case. Not only does it protect your precious status symbol from damage, but it also opens beer and (BONUS!) supports a great cause. Maybe not the slimmest case on the market, but it's perfect for camping and hanging out where you might need quick access to a bottle opener. For the philanthropist beer geek.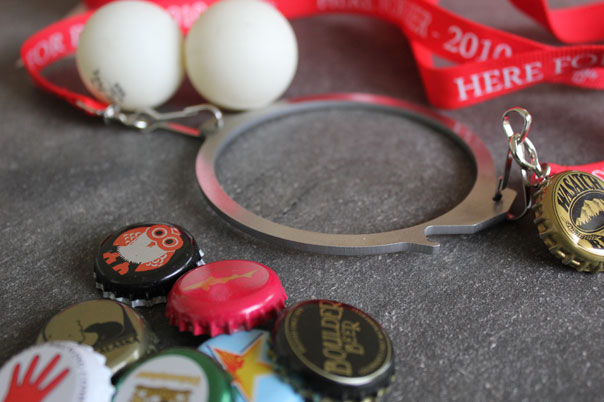 The Brew Caddy is, (left) hands down, the best beer accessory we've purchased for beer fests. We have both the taster and pint sizes with multiple lanyards (a lady needs her choices, after all) and wear them to every beer fest. I don't know how many times I've had people ask where we got them and/or to buy them off of us. Beer for Boobs sells their branded version, but they only have the taster size. I like having both sizes since you don't always know what size glass a beer fest will have. I do like that they taster size is now made in plastic, rather than metal, to keep it from scratching the more delicate plastic tasters. My one word of warning is that the GABF glass tasters do sit a little high in the Brew Caddy, so you might be better off with one of the lanyard koozies for those. A great gift for anyone who likes to use both hands while at a beer fest and/or doesn't want to set their drink down while in the loo.
The Klip is a mini randall you can attach directly to your glass (or pitcher). I love it because it allows you to play with some funky infusions into your brew without committing to a whole batch. It would also be super helpful for anyone training for their Cicerone certification to identify different flavors (both desired and undesired) in a unique way. Great for use with tea and for mixed drinks as well. And is economical at only $20. I recommend this for anyone who likes to experiment in the kitchen as that likely translates over to their drinking.
So this is more in line with the Gwyneth Paltrow's idea of "affordable", but it is the ultimate beer-lover's accessory. The Nostalgia Electronic Kegorator fits a 1/2 bbl keg, a pony keg, or two 5 gallon kegs and comes with a CO2 tank. And because it's a Groupon Good, it's 40% off thru December 12th – making it only $340. Granted, you can turn a good chest freezer into a keezer with a little sweat equity, but it's an energy guzzler. This will use way less energy and you can still have two different brews on tap. Perfect for anyone who likes good, fresh beer on a regular basis. And who doesn't?
I love this so much that I actually bought one for myself. I mean, it's really the perfect wall covering for anyone fascinated by the breadth and depth of beer styles. Pop Chart Lab has a bunch of really nice infographics, but I love their beers ones the best. This is just the latest itteration of their Many Varieties of Beer series. This newest infographic is printed on heavy duty archival stock paper, so it should hold up for some time. It is $90, but qualifies as decoration, conversation starter, tracking sheet, and study tool. As the website says: "the perfect finishing touch for your man cave or lady lair."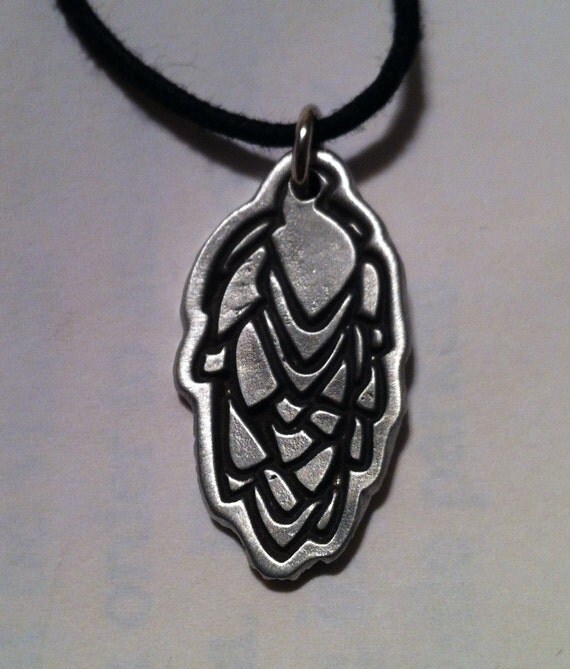 There are a lot of hops necklaces out there, but I particularly love this one because it's not just a hop, but it's also really lovely to look at. It's also not so overtly literal, which appeals to me. This pewter hop necklace from Palmetto Pewter is only $15, so it a good, middle-of-the-road gift for the hops lover in your life.
I don't have a particular item to point you to with this one, just a search and a plea. Beer soap is such an awesome gift: it's handmade, it's personal, it's great for your body, and it's fun. However, please all of you folks on Etsy, STOP labeling your beer soaps as "gifts for men" and "give dad some soap!" I mean, I'm all for marketing, but when every bloody post has the connotation that these soaps are for men, then people who aren't really "in the know" don't think to get them for us ladies. The Beer Soap company is a great resource for a wide variety of beer soaps, but I would also recommend Etsy if you'd rather go a little more handmade. While I will never put anything that smells strongly on my skin (it makes it impossible to accurately assess the flavor and nose of beers), especially not patchouli or sandalwood, I would absolutely love a collection of beer soaps to lather up with. This is a great gift for anyone who likes to pamper themselves, or, you know, washes regularly.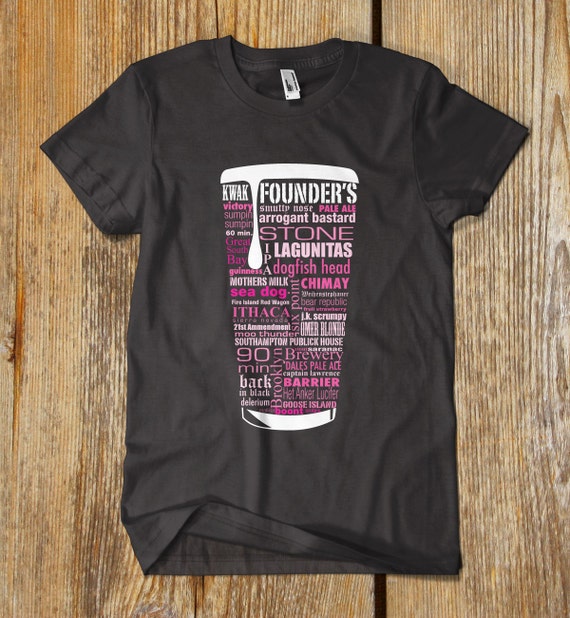 If you want to get someone a beer shirt, your best bet is always to get them a shirt from a favorite local brewery. It doesn't have to be something that they have tried (or even heard of), but it should be something that you, at least, love. And when you get a beer geek something from a brewery they haven't been to, they will do their damnedest to get there, so you are giving the gift of a shirt and a challenge. If you want to dress up a t-shirt purchase, you can always pair it with a nice glass from the brewery or a can or bottle of their beer (if available). However, if you can't get your paws on a specific brewery shirt, this one from Distinkt is such a good choice. It's well-designed, it's fun, and it lists a lot of great beers. If you do decide to go the t-shirt route for your beer lover, please do NOT purchase this horribly tacky shirt or anything like this. While it will be good for a few laughs, it isn't something that they will cherish or even wear.
There are a lot of things that beer geeks love to collect that are free or extremely cheap: bottle caps, stickers, beer labels, coasters. These, by themselves, are great gifts, but consider something that displays those treasured items, like a shadowbox. Even better if it is homemade and customized. A great gift for that person with too many collections gathering dust in a box instead being gawked at by gawky gawkers.
This is really the ultimate thoughtful-without-taking-a-lot-of-thought gift. An American Homebrewers Association membership gives the bearer access to a slew of benefits including a huge amount of homebrewing information, AHA member deals at beer locations across the country, and a subscription to Zymurgy magazine. The Bearded Brewer and I became members at GABF in 2012 and will become lifetime members once our current membership expires. We love it THAT much. Memberships start at $38 for a one-year membership. Of course, if you happen to share the home with said beer lover, you could add on a housemate membership starting at $19. One for you, one for me. A great gift for anyone who likes to brew or drink beer.
Whatever you decide to get that beloved, tortured, twisted, bizarre beer-lover in your life, remember that there is nothing NOTHING better and more fulfilling than sharing a beer with someone you love. Forget all of the fancy gadgets, funny shirts, or sparkly accessories. Forget rampant consumerism and making yourself crazy trying to find that perfect gift. As hokey as it sounds (and no, I'm not even drinking yet), the best gift you can give is your time. Well… your time and a pint. Or two. Because growlers break and shirts wear out and cigars get smoked, but memories sure have a way of sticking around. Especially if you have a camera handy.
Update: the Brew Caddy folks do have a slightly larger ring for the member's only session glasses for GABF! We will be picking up a couple to add to our collection in October.